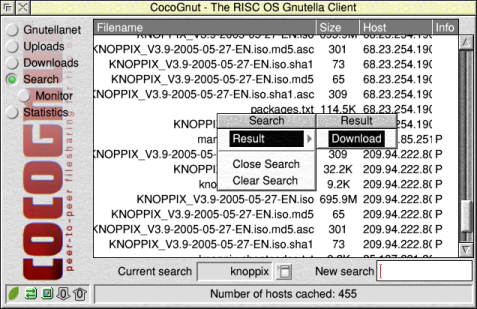 When you first enter the search window, the main section will be blank. In order to start a new search, click in the text box to the right of New search:, type in what you are searching for and press RETURN. In general, all results returned will feature the keywords you searched for.
When a search is initiated, a request is sent to all Gnutella connections. When new connections are established, the search is sent to these new connections as well. Within a few seconds, sometimes minutes, there should be a list of results displayed, such as what is shown above.
The Filename column is the name of the filename as stored on the host which has the file. The Size is the size of the file and the Host is the IP address that the file resides on.
The Info column can have a combination of 'P' and 'B' characters, or neither. A 'P' signifies that a Push is required in order to download this file. In other words, the host is behind a firewall and a message must be sent to a specific Gnutella connection in order for the download to start. A 'B' signifies that the host is busy and a transfer may not be instantly possible. A download has the highest chance of being successful if both the 'P' and 'B' are not present. If you are having difficulty in reading an entire search result because the window is too small, using an interactive help application (e.g. !Help) will display the result information when the mouse is over a row in the table.
When you have chosen which result to try and download, press the Menu button over it, move to the Result submenu and select Download. Multiple searches can be selected by using a combination of Select and Adjust as you would with a normal Filer window
CocoGnut can handle up to 32 simultaneous searches. If you wish to view the results of different searches you have initiated, you may click on the menu icon to the right of Current search:. After a download has been successful, it is recommended to close the search by pressing Menu in the main part of the window and selecting Close Search.